Goodbye to George Harrison,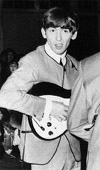 whose time on earth ended last night.
A memory of his music: I'm sick with typhoid in India in 1999. My mom's freaking out in New York, talking about coming to get me. Meeta's nursing me with courage, love and tylenol. The song I most enjoyed hearing was "Here Comes the Sun". The song's faith in the future helped me know I'd get through it.
Thanks, man. You'll be missed.