I'm going to be a dad. And Jeanhee's going to be a mom. And a little person currently referred to as Huckleberry is responsible for it all.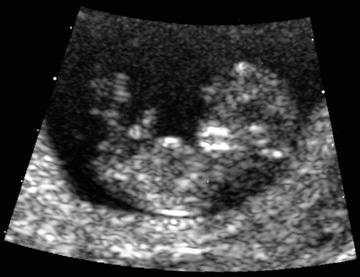 Little Huckleberry, like his (or her) namesake, is on a big adventure! So far, Huck's been fearless, going with mom to her new job every day, and hanging out while she plays volleyball, swims, and even dances at weddings. Huck was also influential in getting mom to fall asleep on the couch every evening at 6ish during her first trimester. I chat with him or her through Jeanhee's belly many nights before sleep. I fancy that I feel the presence of another person around. A really sweet, wonderful person.
In the picture, Huck is just 36 mm, but by now is a lot bigger than that. We're currently about half way through the pregnancy — it seems fast and I know the next four and a half months will go quickly, too. Can't wait to meet you, Huckleberry!
3 Responses to "A baby on the way"



Dude, he's got your small gray protuberance!

Wait, that didn't sound right.

Very exciting. Congratulations, can't wait to meet him/her too.




Congratulations — that's such wonderful news!! Very excited for you both.




You mean "Grandbaby Huckleberry", don't you? We can't wait to meet this new being. Can we babysit yet? Luke and Jeanhee want to know what I want to be called…any suggestions? Don't say "Grandma"! Too common for this special child.
Leave a Reply