Once upon a time, I guess it was back in the summer of 1999, I had an experience I will long cherish.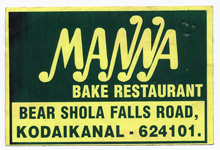 I was living in India with my girlfriend at the time and had recently recovered from typhoid fever. We took a weekend trip to Kodaikanal, a hill station some 250 miles southeast of our home base in Bangalore. A hill station is simply a town atop a hill. It warrants a special term in India because temperatures at hill stations are mild when the surrounding country gets unbearably hot.
Kodaikanal was nice enough. It was actually quite cold. I remember buying a beautiful reversible wool jacket that I still wear. I remember walking along a road carved into the side of the mountain and seeing clouds at eye level. I remember the town having more of a British influence than many. I remember the impressive building that I read was a reknowned international music school.
But most of all, I remember Israel Bhooshi.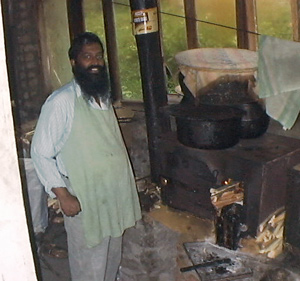 I had never heard of Israel Bhooshi before, but our Lonely Planet guidebook touted his restaurant, "Manna Bake," with an arrow pointing off the map. The morning before we left, we followed the map's arrow and climbed a hill into a completely residential neighborhood. The houses thinned out and more than once we considered turning back. At one point, a older woman's nod told us we were heading in the right direction. Then I saw a sign hanging from a branch, most of it obscured by the lush leaves of the tree. The sign said "Manna Bake." And there was an arrow.
My eyes followed the arrow to a small stone house that looked like anything but a restaurant. We walked the front path, climbed a few steps and knocked on the heavy wooden door. After a moment, the door swung open and Israel Bhooshi greeted us with a smile. He fed us delicious freshly baked whole wheat bread (a treat so unusual in India it's known as brown bread!) and amazing healthy fare. After these years, I don't remember exactly what I ate, only that it was great, and that I wanted to order everything on the menu.
Mr. Bhooshi is a tall, roundish man with a big beard a gentle way about him. His manner instantly put me at ease, and he seemed to enjoy our company to no end. We talked about where we had come from and where we were going, and about his restaurant. He showed us his guestbook, full of travelers who had visited, ate, and from the looks of the comments, enjoyed tremendously.
At one point he asked if I would like to see the microwave. I did a double-take, and he laughed. His "microwave" was a handmade woodburning stove where his manna is created.
I was cleaning off my desk tonight, and I came across Israel Bhooshi's business card and his bright green and yellow sticker advertising Manna Bake on Bear Shola Falls Road. I imagine a steady stream of backpackers making their way through the doorway of that stone house, each one tasting a little bit of the pure and simple joy this life has to offer.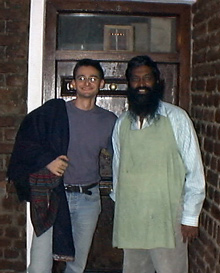 If you find yourself in Kodaikanal, please tell Israel Bhooshi that Luke Melia from New York says hello, and be sure to try his apple pie.
99 Responses to "Heavenly Manna"
Leave a Reply