Some really wonderful time alone. Came home late from work. Cooked some food and upgraded my Mac to OS X 10.1. Will and Dad are nowhere to be seen. Their stuff is here, but they're not. Dad had mentioned he might head to Charlotte today for a few days.
Fortunately, his acoustic guitar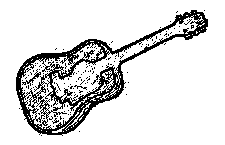 is still here. I lit some candles, shut the light, sat down in from of the computer with the guitar and worked on learning Dave Matthews' Christmas Song with lyrics and tab.
Such a beatiful and emotive song. I remember driving home from UVA at one point, just listening to that song over and over again, singing along.
I'd love to get really good at guitar. But just playing it every once in a while would be great, too. Maybe I'll buy one when Brad comes to visit.
Leave a Reply