L u k e & G r e g ' s
Day Trip to Mysore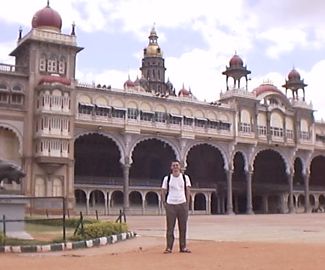 Mysore Palace. This is where several Majarajahs lived, including the last Majarajah of Mysore, Tipu Sultan. As you can see from the scale, it's an amazing place. The area behind me faced the main palace gates and I imagined it to be a place where major parades and ceremonies passed before the royalty.
---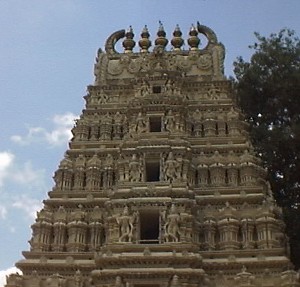 There were a few temples on the palace grounds. Here's the top of one of them.
---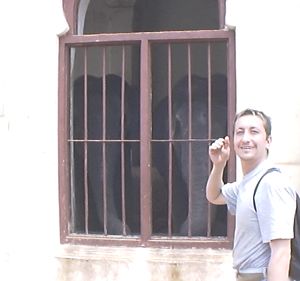 There were also a pair of elephants on the grounds, which we happened upon while exploring. Greg, my Australian friend, touched one of their trunks. The elephant keeper came along shortly thereafter, so I stuck to taking pictures.
---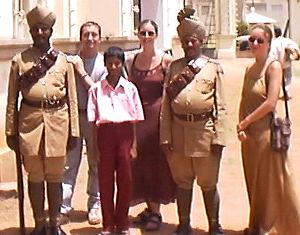 While we were admiring the elephants, we met two young Scottish travelers. I took their picture along with the palace bodyguards, Greg, and a young boy who happened to be around.Greg has a gun just like the bodyguard's. They bonded over that before we moved on.

---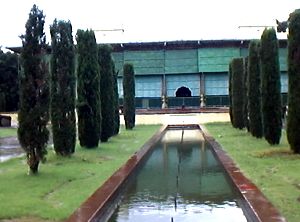 This is where Tipu Sultan lived during the summer, his summer palace. Not too impressive...
Next, a few shots from the zoo...
---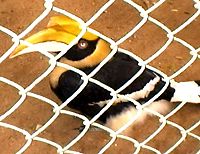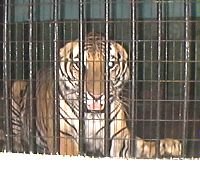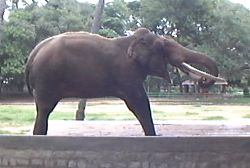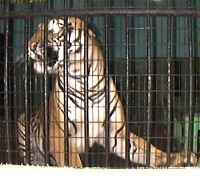 Mysore Zoo is kind of a sad affair. I found it depressing to stare at a bunch of malnourished, imprisoned animals. Oh well. It's still amazing to see a tiger with it's sleek, powerful mannerisms.
---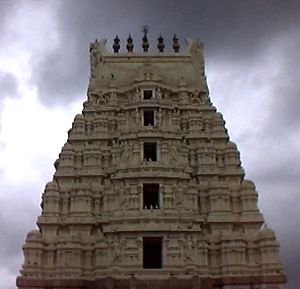 Another temple that looked really cool against the sky. You can't see any in this photo, but there were monkeys crawling around this place.
---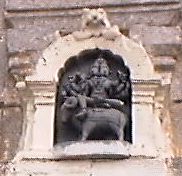 Some detail work in the outside of one temple that looked fairly new.
---
I was flabbergasted by this site. One of the most amazing temples I'd visited, in terms of overall architecture and the shrines inside... and look what they have over the entrance -- an advertisment for hmt Watches with a clock. That's India for you...

---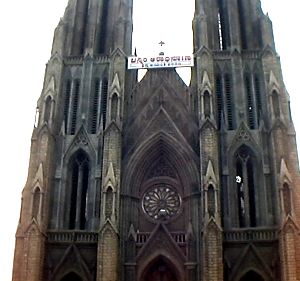 Lastly, this photo is of St. Philomena's Church in Mysore. The inside is the exact opposite of this gothic exterior. It's got whitewashed walls, kind of silly-looking plastic painted statues of Jesus dying, but not on the cross. And there's an endless hallway of donors' names engraved in the wall.

---

That's it for the trip to Mysore. There was actually a lot more, like when I got to drive the horse-drawn bullock cart, but we'll have to save those stories for another time...