A clean apartment, food in my belly and a new song. Not bad for a Sunday night.
Watched Team Bar lose Friday night. The team is definitely playing better together than ever before. Beforehand, Ilio and I had a drink at Frank's and had great, far-flung discussions about the nature of art and artists. We traded stories of our families and accepted a pretty woman's offer of a free scotch on the rocks. I was once more reminded of the joy of using crutches while tipsy.
A quick foot update is in order: I'm walking around my apartment without crutches and the foot is feeling good. I got back to see my counseler, err, foot doctor tomorrow. We'll see what he says about my foot (after he finishes with unsolicited marital guidance…).
Saturday, Anthony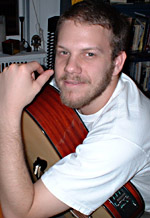 came by and we played guitar and hung out for a few hours. "The Weight", "No Woman No Cry", "America", lots more. We came up with the chords for a song, and I did some more work on it tonight, including lyrics. It's working title is "Show Me". Chords/lyrics. I tried recording it tonight, too. Want to hear just how much of a beginner I really am? Listen. I think the song has potential, though, once I become a better guitarist.
Collected on/paid up my movie bet with Shannon. Had sake at Decibel (great!), dinner at Holy Basil, and dessert at a small cafe facing Tompkins Square Park. It's been a while since I made a brand new friend. It's pretty cool.
I've designated one corner of my apartment for my trip, and there I've put my backpack, passport, tickets, first-aid kit, and assorted other things I'm bringing. It will get more stuff there, and then less stuff, and then one day I'll pick it up and leave. I spent some time today in the bathtub reading the Lonely Planet Laos guide. I'm in for a really interesting trip, I think. The culture and history there is about as different as it gets from here. I've been thinking a little about visiting there as a peace-building effort. It wasn't so long ago that the american bombs were demolishing temples in Laos. For the country to welcome me there is quite generous, and I hope I can help build the relationship in a small way on my trip.
I've decided to stop drinking alcohol until my trip. Build my immune system up nice and strong to take on those foreign germs and long bus rides.
Busy days ahead. Key week at work for my project. Shopping/cooking with Meeta tomorrow. Hanging with Melissa, Carrie, et al. Tuesday. Volleyball cheering Wednesday. Lisa's in town Thursday. Dan's birthday Friday. Hamptons next weekend. Wow. Guess I'd better get to sleep.
Leave a Reply