A.J. Diamond, after all this time, cheering on the Yankees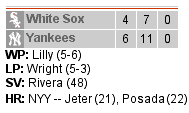 with me tonight at the House That Ruth Built. I knew AJ in college. Not well, but well enough to be pleasantly surprised when we ran into each other on the street a few months ago. He got in touch recently about job stuff (he's an actor who is thinking of teaching himself some web skills) and we had plans to go to dinner tonight. Instead, we hopped on the A to the D with Dad and Will to see the Yankees beat the ChiSox 6-4. Great game, and simply gorgeous night.
It was fun catching up with AJ. Brought back a lot of memories of Charlottesville. People. Leila, who AJ had a crush on. The gregarious Sarah Opp. The jittery Joe. The band AJ was in, Otis Wants Bread. After the game we listened to an mp3 of one of their songs: "I Thought I Could Live Without You… I was F***ing Wrong". Hopefully, he'll come play some pick up volleyball soon.
I've reached a new level of decisiveness in my post-O2 plan. Whenever my gig there ends, I'm going to sublet my apartment for a few months, cash in my frequent flier miles for somewhere (I'm thinking Southeast Asia. Or perhaps Nepal again…) and hit the road for a while. I can't think of a better way to ride out a poor economy than backpacking in an inexpensive country.
It's been three weeks since 9/11 and it seems a lot of people are checking in with themselves. Many things are back to "normal". Things are. Routines are. Businesses are. But people aren't. I still get chills hearing airplanes fly overhead and going into crowded places. Dad mentioned that 7 out of 10 Americans have felt depressed since the attacks. I can relate to that. It's hard to feel jovial about life right now.
Oh well.
What can we get excited about?
Let's go Yanks!
Leave a Reply